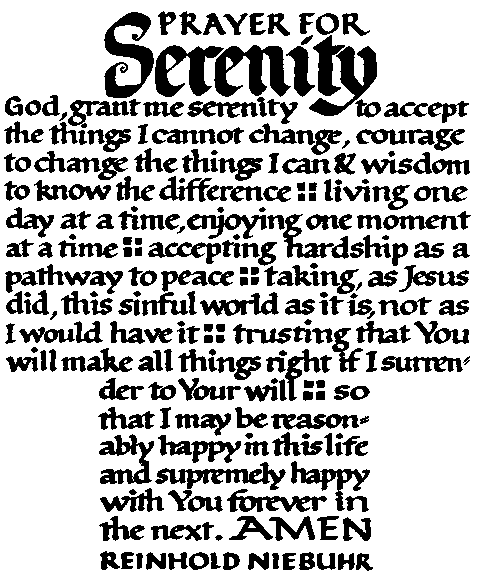 WOR______
a) K
b) RY
c) SE
d) SHIP
1) What do you worry about most? (Most often or the biggest worry.)
(The Message)
Matthew 6: 19-24
A Life of God-Worship (Jesus is speaking)
"Don't hoard treasure down here where it gets eaten by moths and corroded by rust or—worse!—stolen by burglars. Stockpile treasure in heaven, where it's safe from moth and rust and burglars. It's obvious, isn't it? The place where your treasure is, is the place you will most want to be, and end up being.

"Your eyes are windows into your body. If you open your eyes wide in wonder and belief, your body fills up with light. If you live squinty-eyed in greed and distrust, your body is a dank cellar. If you pull the blinds on your windows, what a dark life you will have!
"You can't worship two gods at once. Loving one god, you'll end up hating the other. Adoration of one feeds contempt for the other. You can't worship God and Money both."
2) Do you get how Jesus says the thing that you treasure is where you'll spend your time? Can you think of any examples?
Matthew 6:25-34
"If you decide for God, living a life of God-worship, it follows that you don't fuss about what's on the table at mealtimes or whether the clothes in your closet are in fashion. There is far more to your life than the food you put in your stomach, more to your outer appearance than the clothes you hang on your body. Look at the birds, free and unfettered, not tied down to a job description, careless in the care of God. And you count far more to him than birds.

"Has anyone by fussing in front of the mirror ever gotten taller by so much as an inch? All this time and money wasted on fashion—do you think it makes that much difference? Instead of looking at the fashions, walk out into the fields and look at the wildflowers. They never primp or shop, but have you ever seen color and design quite like it? The ten best-dressed men and women in the country look shabby alongside them.

"If God gives such attention to the appearance of wildflowers—most of which are never even seen—don't you think he'll attend to you, take pride in you, do his best for you? What I'm trying to do here is to get you to relax, to not be so preoccupied with getting, so you can respond to God's giving. People who don't know God and the way he works fuss over these things, but you know both God and how he works. Steep your life in God-reality, God-initiative, God-provisions. Don't worry about missing out. You'll find all your everyday human concerns will be met.

"Give your entire attention to what God is doing right now, and don't get worked up about what may or may not happen tomorrow. God will help you deal with whatever hard things come up when the time comes."
3) What is Jesus saying? What does the part about birds mean? What about the flowers?
The Bible never pretends that life is perfect, or that following Jesus means things will be easy. In fact there are plenty of warnings that it will bring difficulties and opposition. It was the same or worse for the Israelites. But still, Isaiah wrote:
Isaiah 49:13-16
Sing for joy, O heavens, and exult, O earth; break forth, O mountains, into singing! For the LORD has comforted his people, and will have compassion on his suffering ones.

But Zion said, "The LORD has forsaken me, my Lord has forgotten me."

Can a woman forget her nursing child, or show no compassion for the child of her womb? Even these may forget, yet I will not forget you. See, I have inscribed you on the palms of my hands.
4) "Zion" is another way to refer to the Israelites. What is God's promise here?
What's Paul's advice about this?
Phillipians 4:4-9
Rejoice in the Lord always. I will say it again: Rejoice! Let your gentleness be evident to all. The Lord is near. Do not be anxious about anything, but in every situation, by prayer and petition, with thanksgiving, present your requests to God. And the peace of God, which transcends all understanding, will guard your hearts and your minds in Christ Jesus.

Finally, brothers and sisters, whatever is true, whatever is noble, whatever is right, whatever is pure, whatever is lovely, whatever is admirable—if anything is excellent or praiseworthy—think about such things. Whatever you have learned or received or heard from me, or seen in me—put it into practice. And the God of peace will be with you.
5) Seems like this boils down to two things.
1:
2:
The author of Hebrews (maybe Paul, maybe not) lets us know that God's promise to the Israelites (in Deuteronomy 31) applies to us, too:
Hebrews 13:5-6
Keep your lives free from the love of money and be content with what you have, because God has said, "Never will I leave you; never will I forsake you." So we say with confidence, "The Lord is my helper; I will not be afraid. What can mere mortals do to me?"
6) Does this seem like it would help you with worry? Why or why not?
Winston Churchill, prime minister of England during World War II, who had things to worry about, said, "When I look back on all these worries, I remember the story of the old man who said on his deathbed that he had had a lot of trouble in his life, most of which had never happened."
7) What did he mean? Does his view match what Jesus and te Bible says?
8) Jot down one thing you got out of this study:
Web resources
:
My new favorite: The Hardest Question, where pastors share their reflections on the upcoming week's readings. Great resource for people who't teaching or study parallels the liturgical calendar. Even the comments are helpful.
Free Bible Study Guides Dealing with Worry
Diana Gray's Are You Worried?